Introducing our Strategic Partners from around the world
At Rapid ERP we work with some of the world's leading consultancies who use our services to deliver SAP ALM and SAP Solution Manager solutions to their customers. At the same time we also engage with many smaller, specialist companies who have a strong reputation and ability to execute in their respective regions.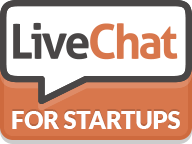 LiveChat provides businesses with the ability to connect with their customers via their own website. LiveChat fills in for phone calls, which are expensive and e-mails, which tend to be slow. Over 7000 happy customers rely on LiveChat in their everyday duties.